Services
We pride ourselves at WholePerson Therapeutics in offering the most comprehensive disability services to help make life easier for those experiencing occupational limitations of all types.
At WholePerson Therapeutics, we realize that chronic diseases are more than just a medical condition. They're a barrier preventing people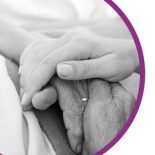 from being capable of fully living their lives. With years of experience, our female-owned, veteran-owned company provides occupational therapy and chronic condition management for pain, arthritis, dementia, Alzheimer's, and more. See everything we are capable of assisting you or your loved one with.
---
We are all about restoring mobility in ways that make sense. When it comes to mobility aids, we can help evaluate a client's performance skills,
develop alternate transportation options, and make equipment recommendations to ensure you or your loved one is receiving the most benefits possible for their environment.
---
Besides our occupational therapy and chronic disease management services, we also provide a multitude of health and wellness services at
WholePerson Therapeutics to help you enrich and enhance the quality of your life. We offer sleep therapy, bariatric care, chronic pain management, and much more to help you live your best life. Click to find out more.
---
We have experience and a passion at WholePerson Therapeutics for helping people recover, move forward, and get back into a routine that's
healthy and positive. We're the clear choice in and around the Shelton, Connecticut, area for helping those with disabilities and rehabilitation needs.
---
We believe in providing dignity and comfort to people through whatever means possible. We help those with disabilities make life easier
through home modification, fall prevention, health promotion, and much more. Learn more about our occupational therapy programs.

---
Employment is much more than a paycheck — it's what motivates you and gives your life purpose. Our physical rehabilitation services will
help get you back to doing what you love with our functional capacity evaluations and work rehabilitation programs.
---
Ready to take your life back?
Schedule a free consultation
.